If you're overseas and enrolled in the Hamilton West general electorate, you can download and complete your voting papers for the Hamilton West by-election.
Your voting papers will include an instruction sheet, a statutory declaration form, and your ballot paper for the Hamilton West by-election.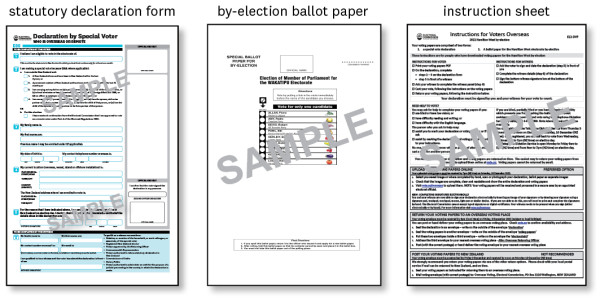 You will be able to download your voting papers here from Wednesday 23 November until 7pm on election day, Saturday 10 December (New Zealand time).
You can only download your voting papers if you're eligible to vote from overseas.
If you're voting from overseas, you must be enrolled by midnight on Friday 9 December (NZ time) but enrol earlier if you can. You won't be able to download your voting papers until your enrolment is confirmed.
How to complete your voting papers
A recent law change means overseas voters can now mark their ballot paper digitally, and overseas voters and their witnesses can complete the special vote declaration using a digital signature.
You may also choose to print your voting papers and scan or photograph then upload them.
If you have any further questions about completing your voting papers, please contact overseas@vote.nz.
How to return your voting papers
Once you've completed your voting papers, the easiest way to return them is to upload them.
Upload your voting papers from overseas
More information about downloading your voting papers