What to expect at a voting place, and how to make your vote.
You can vote at any voting place in the Hamilton West electorate from Monday 28 November to Saturday 10 December.
Check the opening hours of your preferred voting place before you go, as the dates and times they are open may vary. On election day, Saturday 10 December, all voting places will be open from 9am to 7pm.
Bring your EasyVote card with you as it will make voting faster and easier. You can still vote if you forgot your card or don't have one, but it may take longer.
There will be staff at voting places to show you what to do and where to go. In a by-election, you have one vote, for the candidate you want to be your local member of Parliament. This is different from a general election, when you have two votes – one for a party and the other for your local candidate.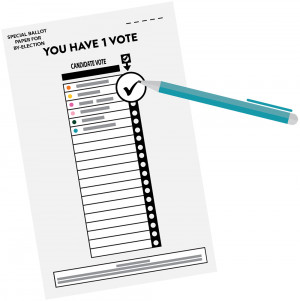 Your electorate vote is for choosing the candidate you would like to be the member of Parliament (MP) for the area you live in. The candidate with the most votes in your electorate becomes your electorate MP.
On your voting paper, place a tick by the name of the candidate you would most like to represent your local area.
And that's it – you've voted!